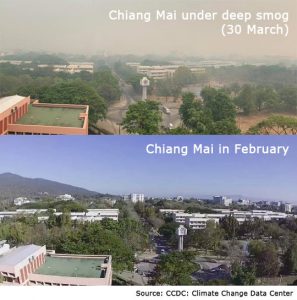 I moved to Chiang Mai, Thailand in June 2009, eight months pregnant with my second son. I was struck by the beauty of Doi Suthep, the mountain which overlooks the city, and the voluminous white clouds that filled the skies after the frequent afternoon thunderstorms. In March 2010, I could not see anything but a faint outline of the mountain, even when at the base of it. Here in Chiang Mai we have seasonal smog from about the end of January until the rains come at the end of April which pushes our air quality well over the WHO guidelines for outdoor air pollution. The main cause of our air pollution issue here is agricultural burning in Myanmar and Thailand during the dry season.
Air pollution is an ugly nuisance, a contributor to global climate change and most of all, a leading cause of disease and death. In fact, the direct links between air pollution and health are extremely strong with 7 million deaths a year attributed to exposure to toxic air. Deaths are caused when pollution levels are extremely high because of acute medical crises such as heart attacks and respiratory distress. Exposure to pollution, both high levels over a short time and lower levels over a longer period is responsible for 20-40 per cent of lung cancer, stroke, heart disease and lung disease as micro-particles enter the lungs and bloodstream and destroy our organs and systems. Recent studies have also found evidence of links between air pollution and depression and air pollution and dementia.
The WHO held the first Global Conference on Air Pollution and Health from 30 October- 1 November 2018. The accompanying report, State of Global Air 2018, rightly highlights that older people in low- and middle-income countries are the most affected in particular those over age 70 accounting for 24 per cent of years of healthy life lost (DALYs) due to air pollution. This is because older people are suffering from the accumulated effects of air pollution over their lifetime and are more likely to die from NCDs on high pollution days.

The 3rd UN High-Level Meeting on NCDs held in New York on 27 September 2018 also recognised the link between air pollution and health. The NCD agenda expanded from 4 main risk factors[1] to 5 main risk factors, including air pollution as one of the leading risk factors for death in the world.
If you live in the Americas, Europe, Southern Africa, Australia and the Pacific, don't live in an urban centre and use electric or gas for cooking and heating, you are among the 1 in 10 people in the world breathing clean enough air. For the rest of us, exposure to life-threatening toxic air is very likely.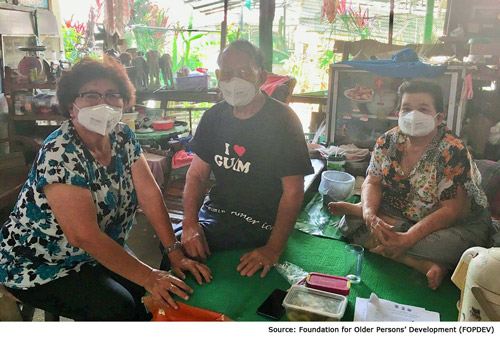 India, Bangladesh, Pakistan and Nepal are the hardest hit for outdoor air pollution. There, as a result of prolonged exposure to pollution, the older people who have never touched a cigarette in their life are developing a condition called, 'smoker's lung'.  Unfortunately, most people have very little control over their exposure to outdoor air pollution.
Reliance on biomass such as wood, coal, animal dung for cooking and heating is common for almost half the households on earth. Over 90 per cent of the population in two dozen African countries have unsafe exposure to household air pollution, while 43 per cent of Indians and 30 per cent of Chinese are also exposed to toxic air due to household cooking and heating methods.
Cleaner cooking methods are feasible but require government investment as most people who rely on cooking fires are not wealthy enough to purchase more expensive types of stoves/fuel. Exploring cleaner fuel and stove technologies such as biogas and solar is one needed approach. Subsidising cooking fuel and providing stoves and gas canisters is another.
As I am writing this article, Chiang Mai registered air quality is among the world worst Air Quality Index (US) according to AirVisual.com
Only HEPA filters and N95 air masks are effective against polluted air and these are expensive for most people. Behavioural suggestions for protection on high pollution days include avoiding exercise, keeping your house clean of dust, and avoiding additional household air pollutions. These half measures are no real solution. Ultimately, regulation of industry, transportation and agriculture along with clean energy for residential use is the only way to address the air pollution crisis.
The city's smog peaks this year in Chiang Mai, typically exceeding WHO recommendations for PM2.5 and some days registers levels more than 5 times safe limits. This current poor air quality is raising my concerns on the potential impact on people's health. Coughing and irritated eyes may be the common complaints but these are just the tip of a dangerous iceberg with cancers, heart disease and respiratory difficulties growing under the surface
At the global level, economic interest, health interest and popular opinion are all united on this issue so advocacy interests are mainly aligned.  However, intervention at local and national levels is also needed. It requires policymakers, advocacy groups, academics and the general public to put their collective focus on this issue to ensure that clean air is accessible for all.
Written by Caitlin Littleton, Regional Programme Adviser, HelpAge International Asia Pacific
---
[1] Four leading behavioural risk factors: tobacco use, harmful use of alcohol, physical inactivity, and unhealthy diet.
To learn more: