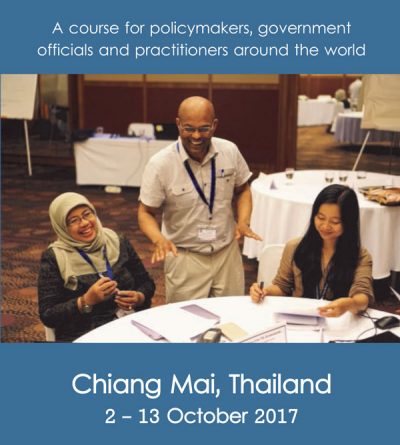 The course is offered annually by the Economic Policy Research Institute and HelpAge International in partnership with UNU Maastrict and the Institute of Development Studies. It provides policymakers, government officials and practitioners with an in-depth understanding of the conceptual and practical issues involved in the development of social transfer programmes. Cash transfers are a relatively modern tool that have proven extremely successful at accelerating development and lifting populations out of poverty.
The first five days of the course includes a coordinated series of theme-oriented sessions, practical skills-building workshops and field trips to see Thailand's social transfer scheme in action. The course will be taught using formal lectures, practical case studies and hands-on exercises. In the second week, participants will choose one of intensive, five-day modules on specialised topic:
Social protection policy
Financial inclusion and economic opportunity: linkages to social protection
monitoring and evaluating social protection programmes
ageing and pension systems
Click here for more details on modules.
The course is two weeks, though it is possible to attend just the first week or one of the specialised topic modules offered in the second week.
The 2017 course will be held from 2-13 October 2017 in Chiang Mai, Thailand.
Application is now open. to apply online, click here.
For more information please contact Ms Caitlin Littleton, asiacourse@helpageasia.org