HelpAge Asia Pacific Regional Conference 2018
HelpAge in Asia had been holding regular regional conferences on ageing for the last 20 years.
This year, in partnership with the Social Welfare Organization of the Ministry of Cooperatives, Labour and Social Welfare and UNFPA, the HelpAge Asia Pacific Regional Conference will be held on 23-25 October 2018 in Tehran, I.R. Iran with the theme of "Family, Community and State in Ageing Society". The three-day conference will consist of plenary presentations; interactive parallel sessions focusing on social inclusion, income security, and health and care; and a field trip.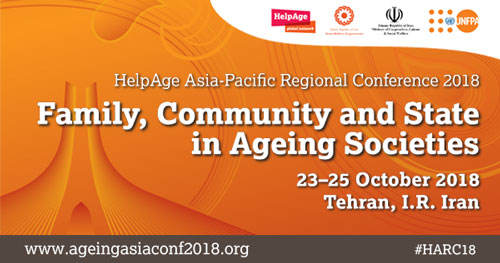 The conference programme, registration and others necessary information will be announced on the conference website www.ageingasiaconf2018.org
Please feel free to contact us at events@helpageasia.org