Members from YEL marching in Jarkarta
Date: 21 September 2014
Venue: Car Free Day area, Jakarta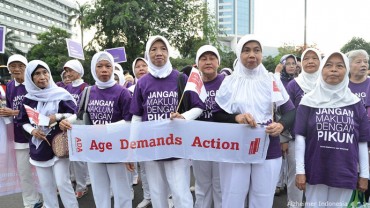 As part of the Age Demands Action campaign, 115 members of our Indonesian affiliate, Yayasan Emong Lansia (YEL), marched with members of Alzheimer Indonesia in Jakarta.
The march started early in the morning to meet with the Minister of Health, Dr. Nafsiah Mboi, and the Lieutenant Governor of Jakarta, Tjahaja Basuki Purnama. About 1000 campaigners wore purple T-shirts printed with the slogan 'Jangan Maklum Dengan Pikun' ('Don't just accept dementia') in support of World Alzheimer's Day.
In response, the Jakarta Government has promised to make Jakarta an age-friendly city, starting with accessibility, and development of a city activity centre and parks where senior citizens can meet each other and do physical exercise.