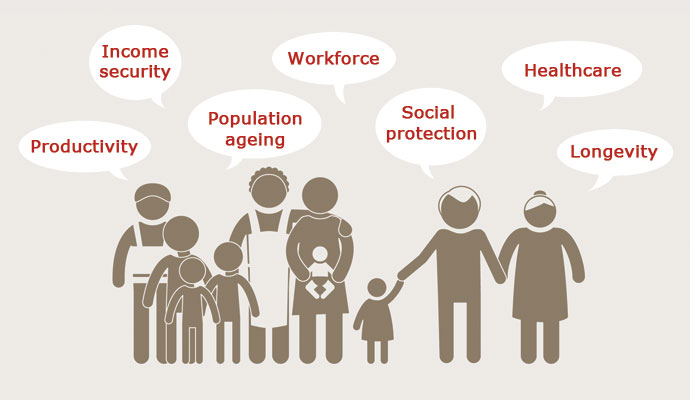 We can no longer say that Asian governments are unaware that their populations are ageing rapidly. Although the sense of urgency varies by country, most countries in the region have begun to grasp that demographic change is accelerating and will have a profound impact on their societies and economies. But how well are the new population dynamics being reflected in policy development?
To discuss that question, HelpAge together with the United Nations Population Fund (UNFPA) and host governments recently organised two forums on national policies on ageing – one event in Iran and the second in Myanmar. These events made it clear that a single national policy that aims to improve the situation of older people is important but insufficient. It may be helpful to make four distinctions to clarify the policy challenges – and opportunities – that ageing societies face.
A first distinction is between old-fashioned perceptions of the elderly and the reality of today's senior citizens. The exact terms are not so important, but our perceptions of life after 60 need to be updated or else our policies will get stuck in the twentieth century. Policies on ageing may rest on an unspoken assumption that old age equals vulnerability, or even helplessness. In reality, only a minority of older people are dependent, and that minority must certainly be protected. But the majority are increasingly active and independent.
A second distinction is between today's older people and tomorrow's older people. A national policy aimed only at those who are 60 and older is out of date even before it is printed because of the rapidly changing context. Poor health and low savings at younger ages will become the crises of tomorrow's older generation. And while there will be more older people in the future than there are today, we should ensure that those individuals will be healthier, more financially secure and better educated – contributors to families and communities for as long as possible.
A third fundamental distinction is between older people and ageing. Although these two concepts are closely related, and are often lumped together without further thought, it may help to consider them separately. An older person is someone who has reached a certain age (60 years old, or perhaps 65). The term ageing, or more precisely population ageing, makes us confront the reality that the whole society is ageing. Between 2015 and 2050, the median age in Asia will rise from 30 to 40. Aside from a growing cohort of over-60s, ageing societies must face questions about the size of the workforce, the scale of future tax revenues and the number of schools needed, for example. A simple national policy for older persons will not address these wider challenges.
Which leads to the fourth distinction, between policies on ageing and policies for ageing. In the past, many countries relied on a single national policy or action plan on ageing. That approach won't work in the twenty-first century. A national policy on ageing is important but must be only one part of a comprehensive policy frameworks on ageing. On the one hand, a policy on ageing needs to be accompanied by funding and a clear set of tools to ensure it is implemented. On the other hand, governments must incorporate ageing into a wide range of sectoral policies, action plans and laws, which must be taken seriously by Ministries of Finance and Planning as a core consideration in national development strategies. The future of the whole society and economy is at stake.
Written by Peter Morrison, Regional Programme Advisor
First published in AgeNews no.22