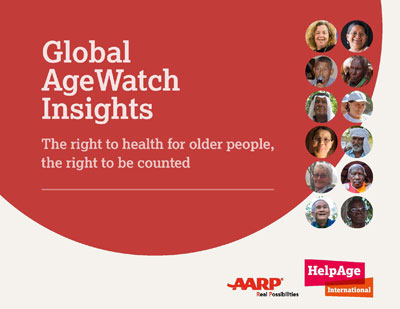 Global AgeWatch Insights considers the progress being made to achieve older people's right to health amid the global drive towards universal health coverage. It explores how older people are currently accessing health services and what changes need to be made to improve on this. It shows the health and wellbeing challenges older people face. And it illustrates how to act on the data issues and gaps that block health systems from effectively planning and implementing services that reach older people.
In addition to the global analysis, the report explores national trends on older people's health status in 12 countries from four regions:
▪ Africa: Kenya, Tanzania, Zimbabwe
▪ Asia: Myanmar, Pakistan, Vietnam
▪ Eastern Europe and Middle East: Lebanon, Moldova, Serbia
▪ Latin America and the Caribbean: Argentina, Colombia, El Salvador
The report was produced by HelpAge International, in collaboration with and underwritten by AARP (aarp.org).
Global AgeWatch Insights: Executive summary and country profiles are also available online. Please visit Global AgeWatch website for more detials.
Language: English
Published: HelpAge International, 2018
Size: 14 MB