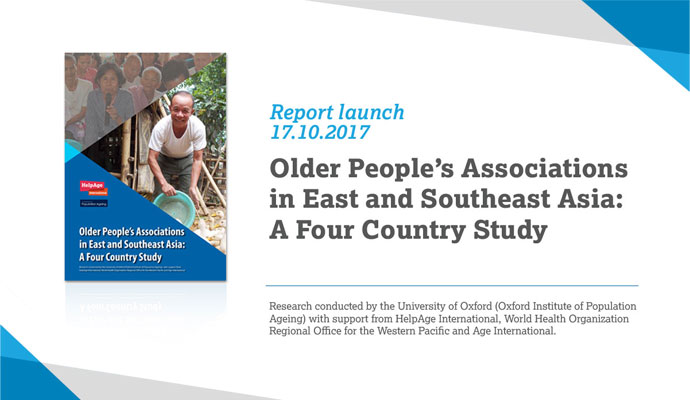 HelpAge International launched the findings of a study report, Older People's Associations in East and Southeast Asia: A Four Country Study, conducted by the University of Oxford's Oxford Institute of Population Ageing at the Center for Women and Development in Hanoi, Vietnam on 17 October.2017
The Asia Pacific region is at the forefront of population ageing and the number of older people is expected to triple by 2050 to 1,265 million. .Population ageing presents significant demographic changes and societies must adapt, for example by forming their multifunctional community-based organisations which enhance the skills and commitment of older people. This type of organisation has been established in different countries in East and Southeast Asia for over 10 years.
The study was conducted to assess the impact of OPAs and examine the conditions for success, assess the sustainability and replicability of the OPA approach and draw lessons for future practice to add to the evidence on OPAs in different countries and contexts. The four study countries were chosen as a sample representing various models, stages of development of the OPA model and country contexts with a hope of identifying lessons which could be applicable across Asia and the world.
At the launch, there were presentations on the study (methodology, results and recommendations), as well as on the country-specific findings from Cambodia, China, Myanmar and Vietnam. An expert panel discussed "The Roles of OPA in Ageing Society". About 70 participants attended the event, including 13 English local media.