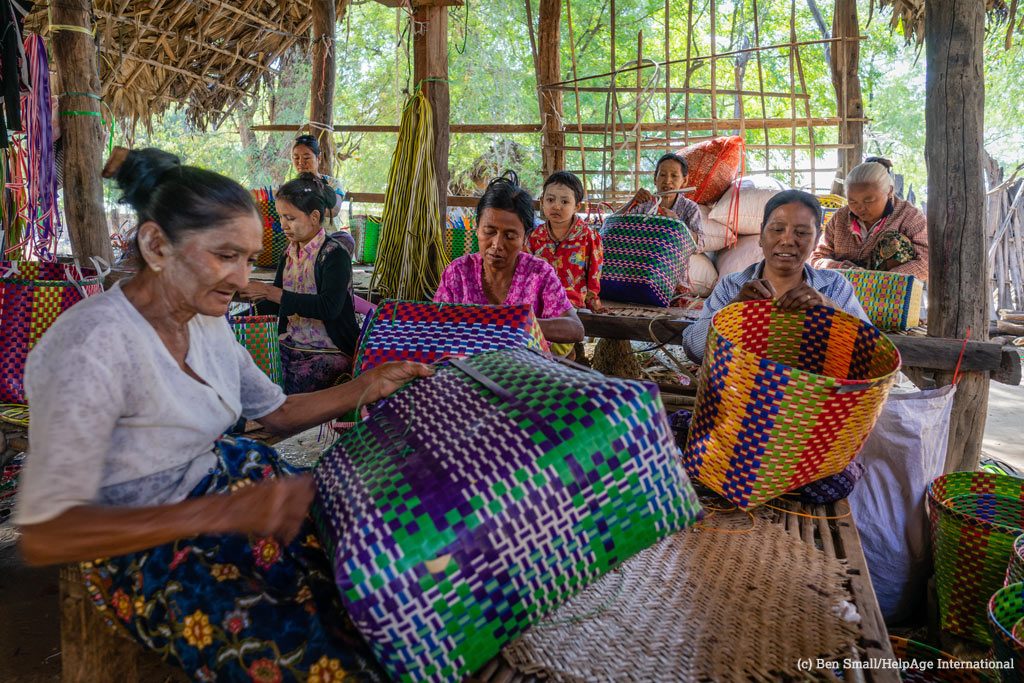 Myay Padaung, a village in Magway's Pakokku township in central Myanmar, may not have electricity, but that is not preventing it from embracing new technologies to support all members of the community. Basket-weaving has long been a traditional skill among residents, as it provides an alternative, year-round income alongside farming. But after receiving a four million kyats (US$2,600) from a LIFT-funded HelpAge International project in 2017, Myay Padaung is finding innovative ways to sell its baskets throughout Myanmar.
The village development committee (VDC) manages the fund and operates the business, using the money from HelpAge to invest in raw materials, such as plastic strips from Mandalay, and to pay weavers' wages.
Before they received the money, raw materials came from other villages as and when basket orders came in. If they had no orders, they had no raw materials and they couldn't work. The fund allowed them to take control of the supply chain and operate their business independently from the demand. This has given them freedom to search out new markets for their wares and to shift from direct retail to wholesale.
The VDC has networks with merchants and different townships who distribute their baskets and bags to markets. But now they are embracing new marketing techniques to sell their products online through Facebook, with payments made using Wave Money. This helps to distribute the products far and wide, reaching Kalay, Mandalay, Meiktila, Myingyan, Taunggyi, Yangon and Tamu, a town on the India border.
The community isn't stopping there – it is trying to widen distribution throughout the country and even outside of Myanmar.
Every house takes a part, with people of all ages involved. The work is not too physically demanding, can be done in the shade and is conveniently located within the village, which makes it particularly suited for older men and women.
Everyone who is able to weave can join the business. Each person makes between 7 and 10 baskets of different sizes each day. For every 40 baskets made, the weaver gets 12,000 kyats (US$8).
"We don't need training to train the villagers because they are skilled at making baskets. If a family member can weave, he or she tends to share their skills to other family members," said U Nay Lin Khaing, the VDC's accountant and marketing innovator who has been hired by the Department of Rural Development to share his skills with other villages. "By receiving the fund, we can create job opportunities for our villagers with our village's own business."
In one year, from 2017 to early 2018, the village made 1.5 million kyats (US$990) profit selling their bags and baskets. Of this, 35% is spent on meeting the needs of at-risk people in the community, such as providing nutritious food to older people, women, children and people with disabilities. Five per cent of the profit covers the committee's costs and 60% is reinvested.
As the profits grow, they hope to improve their operation and increase the number of markets they reach. Once electricity reaches Myay Padaung in the future, the VDC plans to buy a machine to make the raw materials, taking further control of the supply chain and helping boost profits even more.
In 2017, HelpAge provided 90 villages in Myanmar's Dry Zone with income generating venture funds.