HelpAge Sri Lanka
Established in 1986, HelpAge Sri Lanka is a charitable non-governmental organisation working for and on behalf of disadvantaged senior citizens in Sri Lanka to improve their quality of lives.  Its mission is to raise awareness and ensure that people in Sri Lanka understand how much older people contribute to society and that they must enjoy their right to healthcare social services and economic and physical security.
HelpAge Sri Lanka has worked on a number of projects including Adopt-A-Granny and programmes to increase older people's participation in their communities.
HelpAge Sri Lanka sponsored the first dementia care centre in the country and also provides eye care facilities and free cataracts surgeries at a number of local eye care centres.
In December 2009, HelpAge Sri Lanka aligned its vision, mission, values, and visual identity with HelpAge International. As a member of the HelpAge global network, HelpAge Sri Lanka has contributed to a number of network events such Age Demands Action.
Contact information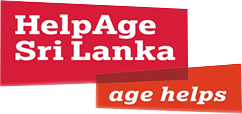 P.O. BOX 09
102, Pemananda Mawatha,
Raththanapitiya, Boralesgamuwa,
Sri Lanka
Email: helpage@sltnet.lk
Website: www.helpagesl.org