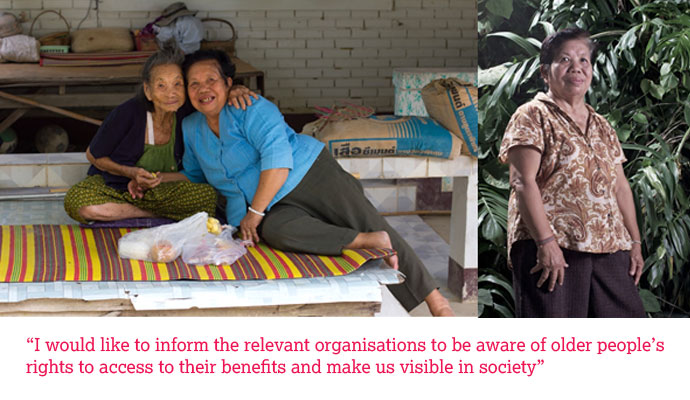 In Banthi district, in the province of Lamphun in northern Thailand, a special volunteer group is promoting the rights of older people. In cooperation with the Banthi district Older People's Association (OPA), the 'Older People's Rights Promotion' volunteer team of Banthi is holding workshop style meetings in villages to educate older people about thirteen critical rights and entitlements for older people in accordance with Thailand's Older Persons Act 2003. The volunteer team has been established under a project of the Foundation for Older Persons' Development (FOPDEV).
Ms. Chanfong Mahamai is the president of the volunteer team. "Gathering a strong group of older people brought us the power of negotiation with key organisations such as municipal offices", she said. The workshops also brought strength to OPAs. In the past, older people lacked useful knowledge and information for their daily lives, especially knowledge of older people's rights, access to health services, and access to the elderly fund provided by the government. Since the volunteer team was organised a few years ago, Ms Chanfong Mahamai and her Banthi OPA team have been handing out information on older people's rights in monthly meetings, strengthening the OPA itself. OPA members also provide information to older people during special occasions such as Buddhist holidays.
"I would like to inform the relevant organisations to be aware of older people's rights to access to their benefits and make us visible in society", said Ms Chanfong Mahamai.