On June 23, we lost one of our dearest friends, Fransiskus Kupang, the Executive Director of COSE in the Philippines, an inspirational leader and a tireless, passionate, expert and hugely effective advocate for the rights of older people.
Fransiskus Kupang was born in humble origins on the volcanic island of Lembata in Eastern Indonesia on 19th January 1969. His family lived in Lamalera, a village known for its whaling tradition and highly prized ikat weavings. Fransis was educated on the island of Flores through a Catholic education system at San Domingo Seminary. Fransis was always full of life. Any initiative to improve the lives of the poor or disadvantaged, found in him an enthusiastic supporter. As a boy, he wanted to help the poor and became active in youth groups.
In 1993, at 24, he was sent to continue theological study to become a priest at Mary Hill Theological College (CICM) in the Philippines. There, he was strongly influenced by liberation theology (option for the poor), arguing that the Church had to work for and with the poor, overcoming conditions that breed inequality and unfairness in this world. Later, Fransis left the seminary to become active in the social movements of the Philippines and the region.
He went onto study Community Development at the University of the Philippines, graduating in 2012. Inspired by his personal mission and by work of the Philippine NGO and HelpAge network member, Coalition of Services for the Elderly (COSE), Fransis joined the organization in 1997.  He initially led the Community Organising team for 3 years before becoming Director in 2009. He revitalized and transformed COSE from a small local organization into one that is very relevant to the country he came to call home. COSE is now a leading organisation that is best known for its community work, strong advocacy campaigns, disaster response and preparedness. Over the years, COSE gave 6 million older people in the Philippines a voice in national legal processes, driving through significant laws and policies for the benefit of the senior citizens.
A charismatic personality and talented orator, Fransis always brought a strong sense of reality and reflection to all HelpAge events, ensuring that the perspective of older people was paramount. He was a great enthusiast with an infectious sense of humour, and a great friend and support to his COSE team and many others across the network. Fransis was a regular presence in HelpAge regional conferences from 2005 and joined many of our regional events.
Eduardo Klien, EAPRO director, said "Today we lost one of our dearest friends. Fransis was an inspirational leader and a strong advocate for the rights of older people.  Rest in peace Fransiskus Kupang."
Fransis Kupang was diagnosed with late stage Gastroesophageal cancer on June 10. Fransis decided to undertake palliative treatment, but suffered organ complications and died, far too soon, this morning in St. Lukes Medical Center Philippines, aged just 46. He is survived by his Philippine wife Jenny and their four children, Ina Lucy, Ina Rensa, Lodovic Ednyuhardi and Mathew Henri.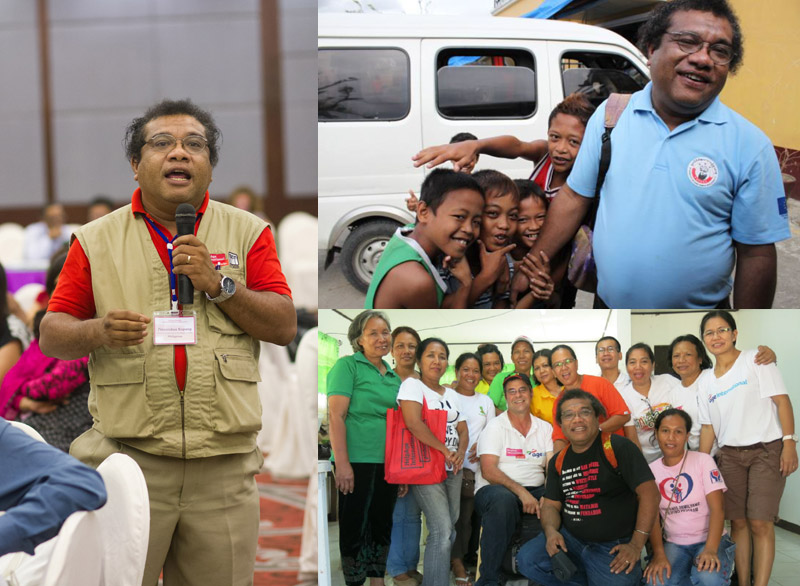 "Fransis Kupang, the friend I knew" – a personal tribute
By Goddy Paul, Senior Regional Programme Manager, HelpAge International
Fransis belonged with the people and to the people. All his life, he was most comfortable when he was with people particularly older people in poor communities. In their company, he would be totally in tune with their lives and relate to them with love and compassion.
He treated people with love and respected every individual equally. That was his strength. He felt at home when he was with people. He was a passionate social worker.
From a humble beginning, he rose to be the Executive Director of an organisation that made a name for itself in the Philippines and in the region through selfless work to develop communities. After leaving the seminary, he joined COSE as a Community Organiser and rose through the ranks to be its Director. While he led COSE to greater heights, in his heart, he always was a community organiser and people centred.
There are many people he has touched with his love and generosity during his short life. One that comes to my mind is his support last year, to one of his staff with colon cancer. Fransis was always supportive and spent time with him to comfort and encourage him, all the time, not knowing that he was carrying the sickness in his own body. Unfortunately, Fransis diagnosis came too late for doctors to help. Even then, his death has come as a shock to everyone as it happened suddenly.
On the positive side, Fransis lived a life in which he touched thousands of lives and has left a legacy that can only grow stronger.
He will be missed but his work will continue in the hearts and minds of his family, friends, the thousands of older people and thousands of well-wishers.
Goddy Paul – 23rd June 2015