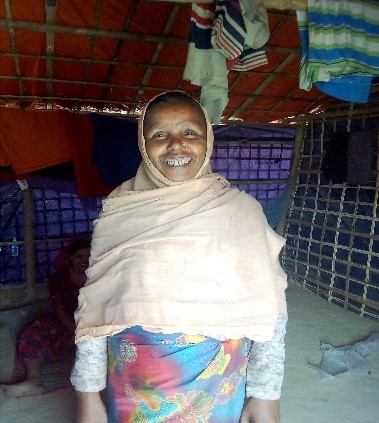 Johra Khatun, 50 year old was a fourth wife of her husband, Abdul Jalil who works as a laborer. They are living in Mongdu, Myanmar. Being a mother of six children, Johra who made a living as a house maid often faced with financial crisis.
Living in Myanmar, she experienced brutal and ruthless acts by the army and had witnessed random killings and rapes. Her 19 year old daughter had gone missing which made her life even more miserable.
The whole family decided to flee to Bangladesh. After days of moving in line through drizzling rain towards an unknown land and unknown people, they reached Balukhali Camp-2 and were provided a shelter. The family was crying for their survival of such long and restless journey. She however could not stop thinking about her missing daughter.
Johra met with HelpAge field staff in October 2017. She talked about her life experience in tears and later went quiet and could no longer talk about it.
On 20 December 2017, Johra joined Age Friendly Space (AFS) and received a counseling service. To uplift her psychological state, she was sent to a public health care center and received regular follow-up from AFS medical team.
Johra soon realised that she was not the only person suffer from the brutal rage of the Myanmar military. She started talking with other people and trying to gain her happiness back. In a very short time, she recovered.
"After losing my daughter, I thought there was no one suffers like me. It was like I was cursed and left with nothing. Then I got affiliated with AFS and everything changed. I saw people suffering even more than me. It was an eye opening experience and I learnt that there is more to life than what the eyes can see."
"I am determined to help other people so that they can gain their lives back and able to enjoy life the way I do now."