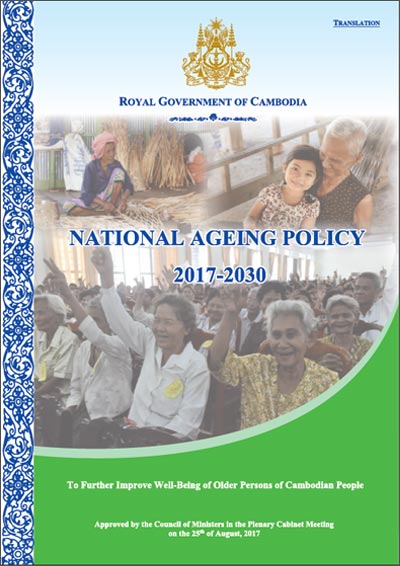 The Royal Government of Cambodia recognises that the inevitable changes of the demographic situations, especially a rising proportion of the older population, affects not just the older persons but all parts of society and all sectors of the economy, the government has reviewed and revised the 2003 Policy for the Elderly.
With the aim of ensuring a comprehensive national ageing policy and taking into account the projected demographic changes and the need to mainstream ageing into the development planning process, the revised Policy is revised based on three fundamental concepts:
to eliminate age-based discrimination so that older persons are guaranteed the same rights as younger persons and treated on par with them in all respects;
to ensure gender equality by focussing more on women who form the majority of the older population and are more vulnerable than their male contemporaries and
to promote intergenerational relations so as to maintain the strength of the joint family system, a hallmark of Khmer culture.
The overall vision of the Policy is to ensure that older persons are enabled to fully participate with freedom and dignity for as long as they wish to in family, community, economic, social, religious and political activities; and that younger persons are better equipped with knowledge that enables them to lead a more productive, healthy, active and dignified life in old age.
Language: English
Published: Royal Government of Cambodia, 2017
Size: 3.63 MB