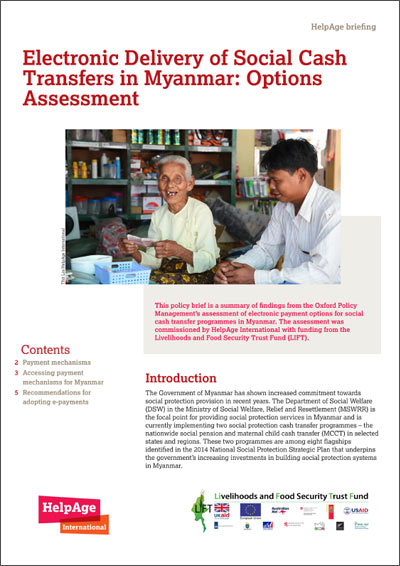 This policy brief is a summary of findings from the Oxford Policy Management's assessment of electronic payment options for social cash transfer programmes in Myanmar.
The way social transfers are paid is important as this can mediate the impact of a programme, affect the cost and risks faced by a programme, and affect burden on recipients. The study explores the feasible means for electronic or digital delivery of social cash transfers and recommends options for piloting, and for wider scale-up through Government social protection schemes. The primary sources of information for this report are relevant literature available online, as well as interviews conducted in November and December 2017 with a range of stakeholders in Yangon and Naypyitaw.
The full report can be found here.
Language: English
Published: HelpAge Myanmar Country Office, 2018
Size: 2 MB