Older people make up approximately 9% of the Myanmar population. Evidence shows that they are disproportionately affected by disasters – a result of their increased physical vulnerability, the belief that they are a burden rather than an asset in disaster preparedness and response work, and a lack of tools and methodologies to facilitate their meaningful participation. The needs and capacities of older people are also not highlighted nor specifically addressed in institutional DRR policies, guidelines and legislation in Myanmar.
HelpAge established an Older People's Task Force in Nga Yoke Kaung Township of Ayeyarwaddy Division in Myanmar, a region that is frequently affected by cyclones and floods. The purpose of the task force was to promote the inclusion of older people in DRR training at the community level. The trainings were focused specifically on responding to the needs of older people as well as equipping them with the knowledge necessary to respond to a disaster. The Older People's Task Force emerged as an effective and replicable tool for inclusion.
Here is the story of Daw Kyi Than, a 70 year old member of the Older People's Task Force in Yae Kyaw Village, Nga Yoke Kaung Township.
I can be a resource and contribute towards disaster risk reduction
My name is Daw Kyi Than and I am 70 years old. I live in Yae Kyaw village, Nga Yoke Kaung sub-township, Ayeyarwaddy Region and have lived in this village since I was a young child. I am married and I have one daughter and three sons. All of my sons have now moved away from Yae Kyaw village to the city but my daughter still lives at home with me. She works as a teacher at the local primary school.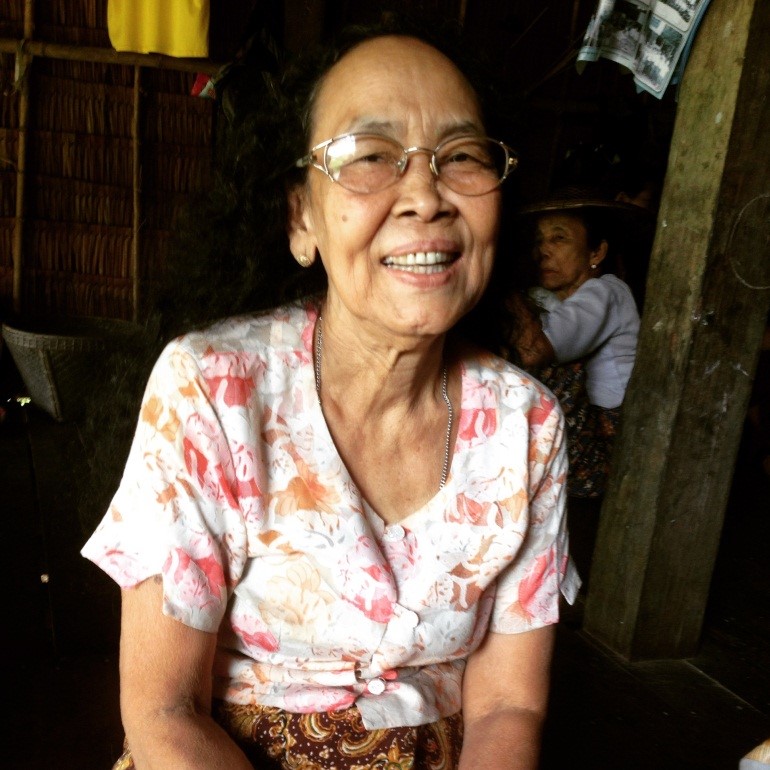 Both my husband and I are members of the Older People's Task Force, which was formed to work together with the Village Disaster Management Committee. In 2016, the VDMC provided training to the OP Task Force, and we learned about Early Warning Systems, First Aid, Search and Rescue and also how to look after ourselves as older people and other vulnerable persons during an emergency.
I remember experiencing a major disaster almost 40 years ago when a cyclone struck our village. It was a long time ago, I was about 30 years old, I don't recall exactly. The strongest memory I have about the disaster is that I felt very terrified and had to escape from my house with my family. All the trees and houses had been destroyed in the strong winds. It was very devastating for the community.
Before the Older People's Task Force was formed, older people in the village were isolated and not many were working together with the VDMC. I didn't know much about disaster risk reduction or preparing for an emergency. Now I feel very positive and it is nice to be included, we meet together and there is unity. We have the opportunity to coordinate with the VDMC and learn more about their activities. We can also share this information with other older people in the village who are unable to attend the Older People's Task Force or VDMC meetings. We have already learned how to prepare for a disaster and that we should pack water, dry food and important documents, and bring a torch and raincoat with us if we need to evacuate. We should pack for ourselves first and then we can help others, who might need our support, to pack as well.
I think the purpose of the Older People's Task Force is to support older people in the village and encourage them to participate more in community activities through leadership roles. As a Task Force member, I know that I can lead by example and inspire other older people to be proactive and get involved. We can also learn about how to help frail older people in a disaster. Now I can be a resource and contribute towards disaster risk reduction because I can share and give suggestions to the Village Disaster Management Committee on how to best support other vulnerable people in the village. I feel very optimistic now and confident that I could help others if there was a disaster in the village again.