At the heart of the Universal Declaration of Human Rights and the foundation of the World Health Organisation in 1948 was the global commitment to establish the right to health of all people everywhere. Unfortunately, the reality is that older people's right to health is undermined by significant data gaps in both older people's health status and in their access to universal health coverage (UHC).
The Global AgeWatch Insights report 2018, The right to health for older people, the right to be counted, was developed to highlight those data gaps. The data gaps are considered in the context of three key transitions challenging contemporary policy makers. These are transitions in demographic, epidemiological and health systems. Essentially, health systems need to adapt to the world's ageing population and the growth in Non-Communicable Diseases (NCDs) to ensure that older people's right to health is met. The global push towards UHC (given increased momentum by the Sustainable Development Goals) provides opportunities to guide this transition. The aim of UHC is to ensure affordable access to essential health services of good quality for everyone, regardless of age, sex, disability, race or other socioeconomic characteristics.
The Insights report is supported by 12 country profiles. The profiles provide some comparative information on trends in older people's physical and mental health status and on their access to universal health coverage. In the case of Asia Pacific, the three country profiles are of Myanmar, Pakistan and Vietnam. Available data shows that NCDs accounted for approximately 80 per cent of the total number of years lived with a disability in each of these countries. In the later stages of life, the main types of NCD causing disability are cardiovascular disease (CVD), chronic pulmonary disease (COPD) and diabetes.
While the data available on older people's mental health is limited, it does show some interesting trends. The prevalence of major depressive disorders is higher among women than men in all of the profile countries except Myanmar where the prevalence is slightly higher among men. In older women in Vietnam, prevalence increases between the ages of 50 and 60 and then decreases until around age 80, after which prevalence starts to increase again. In Pakistan, prevalence steadily increases among women and men between the ages of 50 and 80. Of the three countries, the highest prevalence of major depressive disorders was found among older people in Pakistan, approximately 5 per cent among women aged 75 to 84 and 3 per cent among men of the same age in 2015. What the available data does not tell us is why we have these variations in trends between countries.
The report also explores the rate of mortality due to self-harm. In Vietnam, the burden of deaths due to self-harm is highest among men aged 70 and over across age cohorts and both sexes. In 2015, the rate was approximately 33 per 100,000 for men aged 70 and over. Looking at the burden of deaths resulting from self-harm in Pakistan, the rates were higher among women across all age cohorts in the early 1990s. However, this pattern is changing. The female self-harm mortality rate began to fall around 2000 for the cohorts aged 50 – 69 and around 1995 for those aged 70 and over. It was below the self-harm mortality rate for men of the same age in 2015. Patterns have also been changing in Myanmar. Self-harm mortality rates among women aged 70 and over were higher than men but have declined since 1995 while rates among men of the same age have increased and are now marginally higher (13.5 deaths per 100,000 for men and 13.2 per 100,000 for women).
From the data in the Insights report, it is evident that, while older people are living longer, for many their later years are marred by unnecessary ill health, disability and loss of wellbeing. Access to UHC is essential to address these issues. Again, while the available data is patchy, it does raise concerns about barriers to access UHC for older people, and about deficits in care. These include insufficient diagnosis and treatment of mental and cognitive health conditions such as depression and dementia, and limited recognition of self-harm as a risk for older people.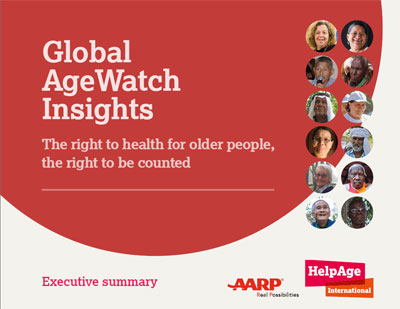 The Global AgeWatch Insights report provides a clear path to action on the data issues and gaps that currently block effective planning and implementation of health systems for older people in low- and middle-income countries. HelpAge is inviting decision makers—in governments, multilateral agencies, national statistical offices and civil society organisations—to join our call to action to achieve older people's right to health. We invite you to read our full report here.
Written by Patricia Conboy, Head of Global Advocacy and Ageing, HelpAge International
---
Visit the Global AgeWatch site for more details including 12 country profiles, infographics, analysis, expert comments and case studies.