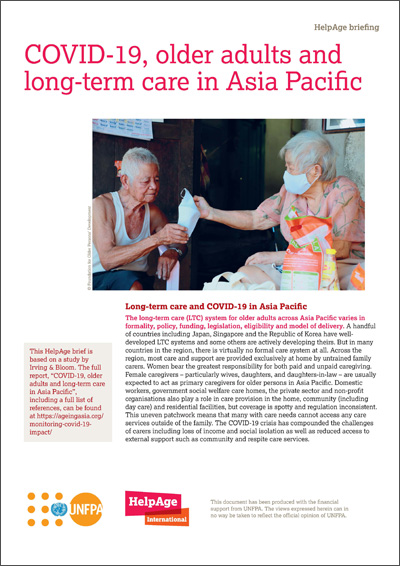 This brief, based on a full study by Irving & Bloom that was commissioned by HelpAge, highlights the interaction of COVID-19 and long-term care for older adults in the Asia Pacific region. It is clear that people with care needs are at heightened risk of exposure to COVID-19. Once exposed, those with care needs face particularly high risk of complications and mortality from COVID-19. Across the region, most care and support are provided exclusively at home by untrained family carers. In some countries, long-term care facilities are more common, and the risk of contracting COVID-19 is especially high for those living in such facilities. These facilities house high-risk people living in close proximity to each other, with shared rooms, communal meals and group social activities. Relatively few older people in Asia live in such facilities, and Japan, Singapore and the Republic of Korea have experienced fewer COVID-19 deaths associated with such facilities compared to most other OECD countries. The pandemic has highlighted the need for care services which are person-centred, well designed, well regulated and accessible to all who need them.
The full report "COVID-19, older adults and long-term care in Asia Pacific" including a full list of references, can be found here.
You can find the completed 'Monitoring COVID-19 impact on older persons' collection here.
Language: English
Published: HelpAge International, Asia Pacific, 2020
Size: 1.68 MB