Anniversary of Typhoon Haiyan (Yolanda)
Anniversary of Typhoon Haiyan (Yolanda)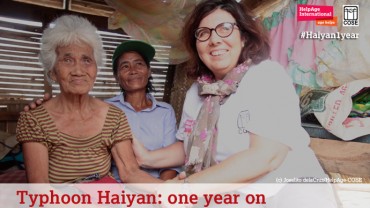 On Saturday 8 November we will mark the one-year anniversary of the typhoon that struck the central region of the Philippines on the morning of 8 November 2013. Typhoon Haiyan, locally known as Yolanda, was one of the strongest typhoons ever recorded, with wind speeds reaching up to 195 miles per hour. The damage caused by Typhoon Haiyan was extensive, affecting many of the islands of the central Philippines. Over 1 million homes were damaged or completely destroyed, more than 6,000 people lost their lives and over 4 million people were displaced.
A significant proportion of those affected by the typhoon were older people. Around 1.27 million, or 8% of the reported 16 million affected people were aged 60 years or over.
HelpAge International worked closely with the Coalition of the Services of the Elderly (COSE) to assess the level of damage and identify the immediate emergency support needs of the typhoon-impacted communities. Within days of the disaster, HelpAge International and COSE formed a joint response as HelpAge-COSE and began to provide essential relief support to people in the affected islands of Negros Occidental, North Cebu and West and East Leyte.