ASEAN Active Ageing 2015
22่ May 2015

-

24่ May 2015
ASEAN Active Ageing 2015
Date: 22-24 May 2015
Venue: Bangkok, Thailand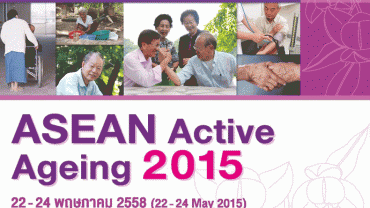 The Thai Red Cross Society and Chulalongkorn University will organise the 3rd National Conference on Ageing and Elderly under the them "ASEAN Active Ageing 2015″ from 22 to 24 May 2015 in Bangkok, Thailand.
The conference objectives are:
To update knowledge and understanding on bio-medical and social sciences and integrative issues on ageing
To discuss the use and application of knowledge, research and study results, experiences, technology and innovation to improving services and quality of life of the elderly
To share models, lessons learned and policy recommendations on preparing and developing an Ageing Society in Thailand and ASEAN+ countries (ASEAN countries plus others such as China, Japan and Republic of Korea, etc.)
To promote engagement of all sectors including elderly for development of Ageing Society and the elderly
There will be 4 plenary sessions and 52 parallel sessions. The presentations will range from knowledge, research findings and studies to lessons-learned, experiences, policy recommendations, models and example programs from academicians, researchers, students, leaders of different levels and sectors, executives/administrators, practitioners, stakeholders, concerned parties and the elderly.
For more information, please visit  http://ageing.md.chula.ac.th/2015/ or email to ageingconference@chula.ac.th