COSE 25th anniversary
Date: 30 November 2014
Venue: St. Paul University Theater, Quezon City, Metro Manila, the Philippines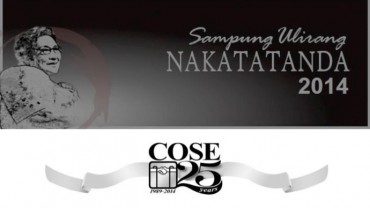 Heart unwrinkled: 25 years of growing in age and grace
Established in November 1989, the Coalition of Services of the Elderly, Inc. (COSE) is the only non-government organisation working with poor older people in urban and rural areas in the Philippines.
Believing in the importance of older people in the community to share their experiences and wisdom, and to teach us all about our own ageing, COSE works to ensure that older people remain active in the community, thereby enabling to continue contributing to the welfare of the greater society.
This year, COSE is now on its 25th year. To celebrate this remarkable journey, COSE will organise an annual event 'The Elderly Filipino Week' on 30 November 2014. The celebration provides a timely opportunity for the organization to honour 10 outstanding older people in the Philippines through a programme called Sampung Ulirang Nakatatanda (SUN). This is to recognise the important contributions of older persons to society. SUN awardees have been chosen from different sectors, including those of farmers, women, disabled persons and tribe members, who, one way or another, have rendered exemplary service to their respective communities.
The ceremony will also feature other 15 awardees from different sectors, including 5 each from the local government, who have been exemplary in addressing the issues of the elderly, 5 from media for their promotion of the issues and rights of the elderly, and an additional 5 special awards.
As part of the 25th Anniversary celebration, COSE continues to arrange a series of activities in January next year:
Intergenerational Fun Run "Young ones for the young once" – Flock of students with their grandma and grandpa will hit the road as the event seeks to partner with colleges and universities in the metro. It will provide opportunities for intergenerational learning and promoting activities that foster stronger family ties.
Photo Exhibition – Internationally recognized Filipino photographer, Rick Rocamora, offered his considerable skills to interpret the 25 year event. The exhibition will feature a sampling of thousands of older people, who late in life both shared and received the singular grace of service.