International Day for Older Persons was celebrated in Lao P.D.R.
International Day for Older Persons was celebrated in Lao P.D.R.
Date: 7 October 2014
Venue: Boulykhamxay, Lao P.D.R.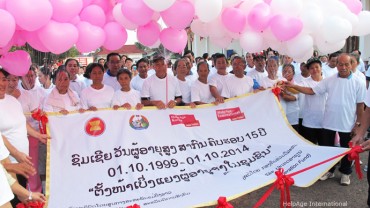 Lao Women's Union (LWU) organised a public event in Boulykhamxay province to celebrate the 2014 International Day for Older Persons on the 7th October. It aimed to raise awareness of concerned agencies and the public about the importance of community-based approach in addressing the care needs of older people.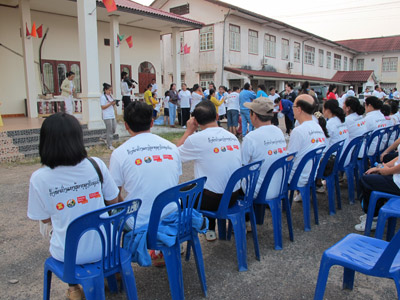 The enthusiastic crowd of around 600 people including representatives from LWU, Ministry of Labour and Social Welfare, Ministry of Health, HelpAge Korea (HAK), HelpAge International and older and younger people from Boulykhamxay province gathered early in the morning. The President of LWU in the province welcomed the participants. The speech of the representative from HelpAge Korea stressed that the majority of older people continue to contribute to thier families and communities. However, there are older people who are frail and/or suffer from chronic illnesses, and need to be cared for. The participants joined a group exercise to show the unity and remind that a regular exercise is one the main ingredients for achieving healthy ageing.The print materials were distributed, which included the brochure providing key information on ageing population, non-communicable diseases, care needs of older people and how to address through community-based approach.
The highlight was the joint ribbon cutting of LWU and HAK to officially marked the celebration. The banner says "Let's care for older people in the community" with a huge bunch of balloons in white and pink went off to the sky and cheered by all attending the event.
The atmosphere and activities were captured by the LWU communication team and will be aired on the national TV and also be covered in the provincial newspaper and monthly newspaper of LWU to reach wider audiences. The event is part of "the regional ROK-ASEAN community-based service for older people", coordinated by HelpAge Korea in collaboration with HelpAge International, with financial support of ROK-ASEAN Cooperation Fund. It is implemented in Laos by LWU in partnership with Ministry of Labour and Social Welfare and Ministry of Health. The project in Lao P.D.R focuses on raising awareness and building capacity of concerned agencies.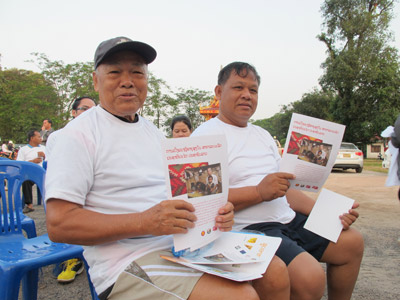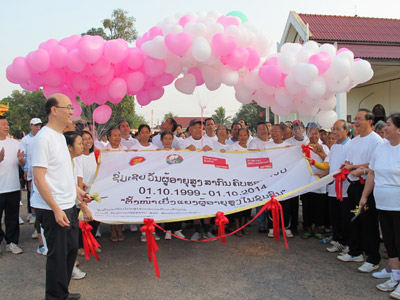 To visit photo gallery, click here.