Older people's associations exchange visit in Thailand
11่ November 2013

-

13่ November 2013
Older people's associations exchange visit in Thailand
Date: 11-13 November 2013
Venue: Ibis Style Hotel, Chiang Mai, Thailand
ASEAN older people's associations exchange event: older people met and reflected on ASEAN Declaration on Ageing
With support from the European Union (EU) and Korea International Cooperation Agency (KOICA), HelpAge International organised a regional OPA Exchange visit in Chiang Mai Thailand on 24-26 November 2015.
Representatives of Older People's Associations Federations from 5 ASEAN countries attended an OPA Exchange visit in Chiang Mai, Thailand to share and learn from each other's experience of raising the voice of older people and to discuss the ASEAN Declaration on Ageing released at the 27th ASEAN Summit in Kuala Lumpur on 18-22 November 2015.
22 representatives of Older People's Association (OPA) from Cambodia, Thailand, Indonesia, the Philippines, and Myanmar attended this meeting. The event aims to promote wider recognition and support for OPAs, strengthen regional networking, and disseminate best practices and lessons learned.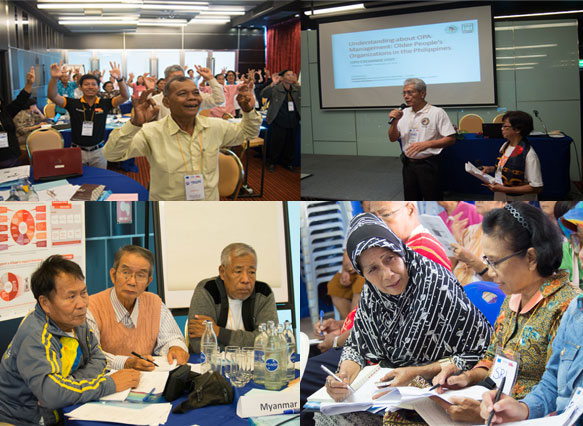 Responding to the declaration, OPA federation leaders were concerned by the omission of social protection and social pension something that ASEAN has provisionally committed to.
"Social protection is recognized as one of the most effective tools in reducing poverty and inequality. Governments in ASEAN countries have made a commitment to improve social protection as demonstrated by the endorsement of the ASEAN Declaration on Strengthening Social Protection. Therefore, it is regrettable that social protection including social pensions is omitted from the Declaration. The older people's representatives hope that social protection will be included in the regional action plan for the implementation of the Declaration," said Usa Khiewrord, Regional Programme Manager, HelpAge International East Asia Pacific.
During the meeting, OPAs leaders recognised many of the positive points of the ASEAN Declaration on Ageing including a call for better data, its weaknesses including the lack of a specific mention of social protection and social pensions, and made recommendations for future actions, particularly in relation to the development of an action plan to support the Declaration's implementation.
The first draft of the statement will be delivered and the formal statement will be announced at ASEAN OPO Meeting in Cambodia in 2016.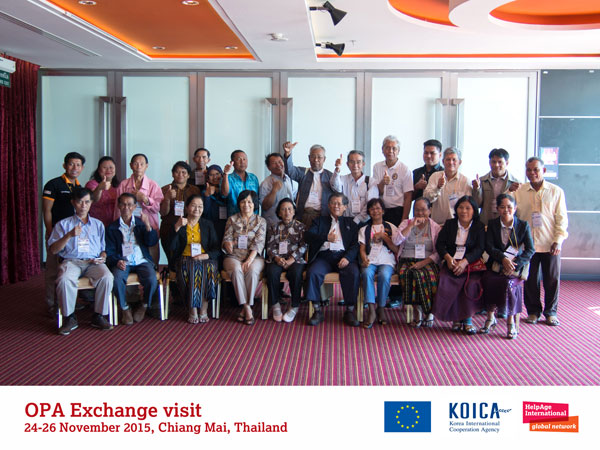 Older people's associations (OPAs) are community-based organisations of older people, which aim to improve well-being of older people, their family and communities. There are over 1,700 older people's organisations in the East Asia region and they are recognised by ASEAN leaders as an important tool for older people development.