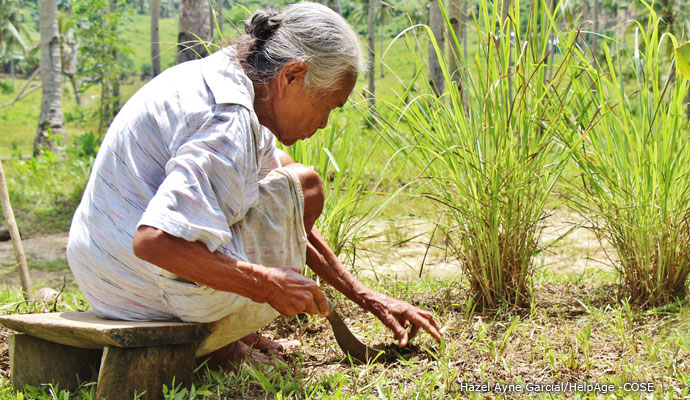 Pelagia is a strong, vibrant person and still enjoys gardening at the age of 86. Her optimism and cheerfulness radiates on her face. She is absolutely content with her life no matter how simple it may seem.
She had six children but two of them have died. She lives with her teenage granddaughter in a small house that was built by HelpAge-COSE. Pelagia took custody of her orphaned grandchild after her daughter died. To reach Pelagia's village, one must cross three rivers that overflow when the heavy rains come.
"Life in our village is simple. We get income from our root crops, backyard garden and coconut trees. I used to live in a house beside our village chapel before Typhoon Haiyan came and ruined everything we had. I was asked by the owners of the land to be the caretaker of their land where my house was located. I had to make sure that nobody used their land without the owner's permission. In return, I was allowed to build my house on the land. I lived alone but sometimes I would visit my children to ask for support. I understand that they have their own families though, so whenever I couldn't get assistance from them like food or money, I would just go to my garden and gather root crops such as cassava and sweet potato.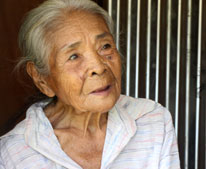 "We already heard about the strong typhoon that was coming in our areas so I evacuated to my daughter and son-in-law's house and waited until the typhoon was over. After the storm had passed, I immediately checked my house only to realize the extent of the damage that Typhoon Haiyan had left. The only things that remained from my old tiny haven were a few posts. The church beside it was also gone.
"The typhoon has changed my life because I am now living in a safer house in a new location. It's been like starting a new life. The previous land where my old house was located was subdivided so the land owner didn't need me as the caretaker anymore. I still continue the things I used to do before the Typhoon, like gardening and doing household chores, even if I have moved in to a new place.
"At first I was worried because I had lost my house and source of livelihood and food, but there are kind-hearted people who helped me get back on my feet again. I have a new house – thanks to HelpAge-COSE, on a new piece of land – thanks to the sibling of the landowner I used to work for.
"I am thankful that our barangay officials introduced HelpAge-COSE to me. I feel very happy and lucky because I was chosen to become a beneficiary of a typhoon-resilient house. I would not have a new, comfortable home with galvanized iron roof and plywood walls if I had not met them. My old house was quite different from this; its roof was made of coconut leaves and the walls and floors were made of bamboo and piled logs. HelpAge-COSE visited me again and said that they would also build a kitchen as an additional part of the house. It may be smaller than my previous home but it is perfectly fine with me because there is still plenty of space for me to move around with ease.
"I don't own the land but I can still claim this house as my own… once they finish building it, of course!
"I am not asking for anything that is grand. As an older person, food is the most important thing for me. Part of my daily routine is visiting my elevated garden in the backyard where I grow cassava, sweet potatoes and other edible plants. If my children cannot support me, my grandchildren help me have something to eat. If I don't receive anything from anyone, I just go to my garden and get food to eat from there. This is how I live and survive every day, so when they asked me what else I needed, I just answered, 'HelpAge-COSE has helped me start anew. I already have a house; all I can ask for are garden tools to help me grow plants for food.'
I am already old and I am easily pleased. I am content living simply, as long as I have a house to sleep in and protect me, and food to eat every day."