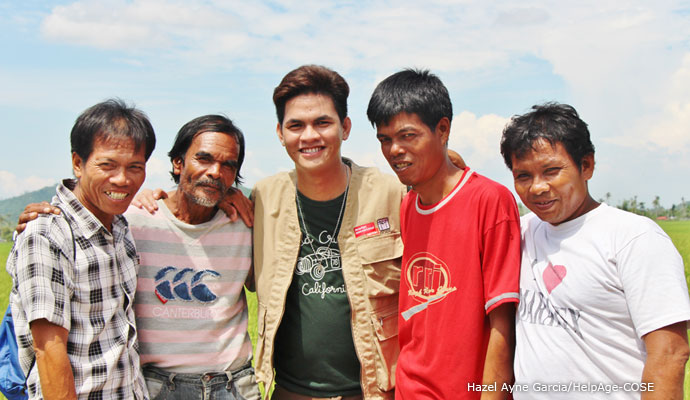 Virgilio Virola, 60 years old, a resident of Leyte, lives with his grandson in a small hut in the middle of a vast rice field. He has two children but they are already living independently with their families. His wife died a few days before Typhoon Haiyan swept through Leyte on 8 November 2013. He has been helping HelpAge-COSE to identify and check on older people in their district, known as a barangay. He attended the carpenters training and is now part of the carpenters team that will build typhoon-resilient homes for older people in their village. He is also one of the beneficiaries of the Build Back Better shelter programme run by HelpAge-COSE.
"I worked as a machine operator in a rice field from 1981 until 2012. I now work as a carpenter. I've had experiences in carpentry in the past but I had forgotten what I knew so I am re-training and learning everything again. Carpentry is a new source of income for me and an addition to my salary as a barangay warden.
I've had my own challenges in life long before Typhoon Haiyan arrived and ravaged our place. My wife had struggled from an illness. We consulted a doctor but my wife refused to have an operation; she was afraid that it would hasten her death. I was sleep-deprived from March to October of 2013 because I cleaned her wounds, assisted and took care of my wife. She died on the 29th of October – just days before Typhoon Haiyan. We gave her a decent funeral and the typhoon gave us time to grieve for her loss. We had heard about the coming typhoon so we decided to bury her immediately. It was not yet the right time but it was the right decision. So I am truly thankful I made that choice and for everyone who helped me with her funeral.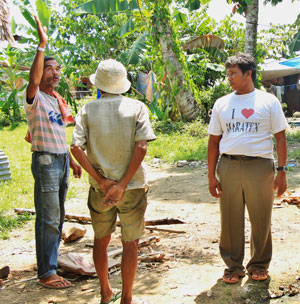 It was early in the morning, around 4:50 and I was moving to a concrete house nearby – a better ground to be on at that terrifying moment. My house was half-concrete with a palm leaf roof. One moment my house was still there then in a blink of an eye it was gone. The typhoon was so strong and it did not spare the house we had gone to. I saw the roof being plucked by the wind and the water rose almost up to my neck. I told people inside the house, 'Get out now! Move to a higher place because the water is already high. It might get higher anytime.' Good thing they listened to me. I guided them to a safer place. Everything in our barangay was destroyed by the storm. Many cried out from hunger. After the storm, I checked the ruins of my house and was surprised to see an intact and dry container of rice. That kept us from going hungry in the next few days before relief arrived.
I am part of the Older People's Organisation now because I no longer work in the rice field. At first, I was just assisting HelpAge-COSE to identify older people in our village then they asked if I also wanted to attend carpentry training. I said, 'Of course, yes! It is what I really want to do as I don't have a full-time job now.'
I am grateful that I was able to participate in the training. It has taught me new techniques which I would not know otherwise. My previous workmanship as a carpenter may have been enough to build a strong structure but those were just based on instinct and experience. I became more confident after I attended the training. I know I am better equipped and am sure my performance will be better than before.
I once heard bad feedback from other younger team members so I explained to them, 'Please don't think like that. The free food and the tools we will receive are already a big help. These matter a lot to me.' I told them, 'What matters most is the act of helping older people; maybe you don't understand where I am coming from because you are not yet as old as we are. You should know that it is very important and has a huge impact on our lives.' I only want to help my fellow older people.
I told myself, 'Even if I don't work in other jobs, I still have some income because I was hired as a carpenter for older people. I am thankful to HelpAge and to COSE because they have created ways for us to also help our fellow older people.'
This shelter assistance is already a great support for an older person like me. I am the youngest of the older group but I am overwhelmed and honoured to be part of this team and to be able to serve many older people through this."