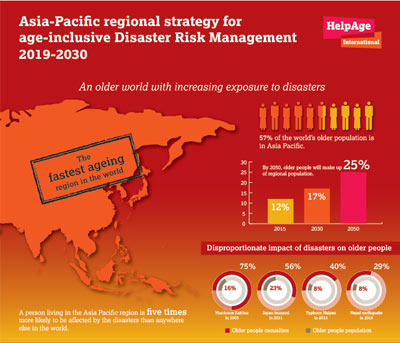 In almost every disaster we have witnessed, older people have been disproportionately affected. In many cases older people were invisible or their particular needs were subsumed in the maelstrom of responses to those disasters. Preparedness plans were not inclusive. But there is clear awareness now that any humanitarian intervention nowadays has to be inclusive.
In this context, HelpAge International – with engagement from network and partners­ in Asia – has developed a "Regional Strategy for Age-Inclusive Disaster Risk Management (DRM)", which aims at reducing and preventing disaster and climate risks to older people. The strategy calls for coherent and collaborative efforts and defines four interlinked long-term outcomes, which lead to eight priority action areas to enable 'step changes' or 'breakthroughs'.
This 2-page infographic summarises the strategy framework, priority action areas and approaches. You can contact us for a copy of the strategy paper.
Language: English
Published: HelpAge International, Asia Pacific, 2019
Size: 420 KB