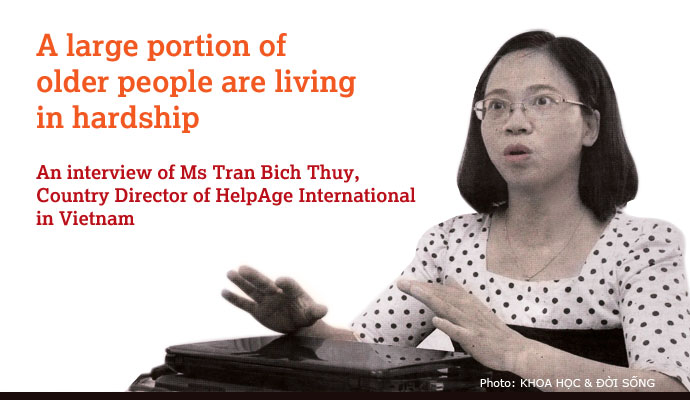 Source: KHOA HỌC & ĐỜI SỐNG (Science & Life Newspaper) Issue #143 (3283)
Date: 30 November 2015
According to Ms. Tran Bich Thuy, the majority of older people in Vietnam are yet to develop a habit of having financial reserves for the later stage of life, instead, all of their money was invested in their children. As a result, once they reach retirement age, a lot of older people have to live in poor quality and uncomfortable living conditions.  However, under the right course, older people can become an enormous pool of resources for the society.
Stop thinking that old people need to rest
How can one be considered an old person?
Vietnam has already entered a population ageing phase, which stems several activities assisting older people.  Each age group has different needs, living standards and characters.  In Vietnam, older people are sorted into these following age categories: 'Young old' for people from 60 to 69 years old, 'Old' for people from 70 to 79 years old, 'Older old' for people above 80 years of age. It is not encouraged to label every older person 'Old'.  People belong to group 1 (60-69 years old) are most likely to be in good health, thus they should be given opportunities to contribute to the society. On the other hand, older people from the 70-79 years old age group are in need of both care and roles in the society, while it is essential to provide care for 'Older old' group.
So, does being an older person mean that the person barely has any capability to contribute to society and should be resting?
I think that is such a wrong notion that a lot of people think that one becomes useless when they are old. While in reality, the majority of people between the age of 60 and 70 years old are still mentally healthy, some are yet to pass their prime. This even applies for a few people over 80 years old. The society needs to change its perception towards this issue.  The average life expectancy for Vietnamese during the 1960's was 40 years old, while the figure has reached 73 years old in present time. It is not right for us to keep the same 1960's mindset.  With that kind of perception, we will be missing plenty of opportunities in this ageing phase
Can you give us more details on that?
It is not correct to say that older people need to rest and be taken care of. That is the kind of opinion that needs to be changed. After retirement, older people still have a number of years left to live and contribute. It would be a waste of human resources if we keep thinking that way. The government needs to come up with appropriate policies for these different age groups.
The nature and purpose of work for older people are different from the younger ones?
That is right, older people live for happiness, health, and valuable contributions. It is noted that their will to contribute would generate plenty of benefits, both economy-wise and society-wise. When they get to work, older people feel more useful, which result in a more efficient outcomes.  However, the society does not seem to make adequate investment in older people.  Many older people are still providing free education to children as well as several other charitable acts. They would not be that healthy and active if they were not allowed to do so.
Lack of preparation of their old age
Is there any worthy notion about older people's economic life in Vietnam?
According to the General Statistics Office of Vietnam, in 2014, 22.3% of older people population was living in poor households; while the data from poor-adjacent families was unavailable. The amount of older people with pension and social insurance is still very limited. Up to 60% of older people claimed that their income could not suffice their basic needs, only 2% said that they were living a plentiful life. Approximately 90% of older people in Vietnam don't have financial savings.
How come?
Most of today's older people spent their youth serving the country during wartime. Once peace was re-established, they only focused on making ends meet and their children, without paying any attention to their own financial savings. Vietnamese tend to invest everything they have in their children; while in Western countries, people start buying insurance at an early stage of their life so they can enjoy the savings after retirement.
So older people are living in hardship because they have to take care of their children, is that right?
That is a common mindset; even the younger generation barely pays attention to their later stage in life. It is right to invest in your children, however, in my opinion, we should not devote everything we have. Instead, everyone should actively start thinking about taking care of their life in old age. This also means that people will be less dependent on their children. I have met many older people who told me that they want to travel somewhere only to be held back by the anxiety of asking for money from their own children. Even older people with pension don't seem to find the support sufficient to their basic needs.
I thought it was not that bad for people with pension?
Only around 30% of older people in Vietnam have pension and social welfare. The amount of money that they receive is not much, therefore, there are not many older people who live an abundant life. Children should not think that parents are being selfish not investing everything in them as their life would be greatly affected too if their parents are fallen sick.
1 person, 4 sicknesses
Health must be the first thing that comes to mind talking about older people. Do you have any information on this issue?
According to many studies in Vietnam, on average, one person carries four sicknesses. This is generally common in this country. The main reason for this is people's poor attitude towards having regular health check-up due to limited economy or lack of health awareness. Older people cannot travel far, therefore, they usually have their health checked at local medical stations, which are likely not in good shape for adequate medical service. Some people even ignore their condition thinking that they are inevitable due to their age. The treatments only start when the conditions become serious, which results in high medical bills. Thus, it is crucial to convey the importance of having regular check-up to older people.
Low-quality medical service must be the reason why older people shy away from health check-up?
That is right.  Some medical facilities just do not understand older people. I have heard a story of a medical officer complaining about an older person having monthly check-up on insurance. This has made the older person feel anxious thinking about having a check-up.  All it took was just one sentence of grouchiness. That is why older people choose to treat themselves or come to medical facilities once they cannot stand the illness anymore.
Isn't Vietnam's health insurance system pretty well-developed?
It is. There has been some improvements regarding healthcare provision to older people, however, only about 60% of older people in Vietnam has health insurance. This is a low figure compared to other countries. In a 2011 study on older people, 5% claimed that their health was good, 35% said it was average, while 60% felt that their health condition was poor or very poor.  Older people usually do not think that their health is at its best.   In the near future, we should focus on improving older people's living condition and their healthcare system.
How about their mentality, is it something that should be addressed?
Some people are glued to the idea that once you are old, there is no need to dress yourself well, to sing, to dance, etc. I once travelled to a mountainous region and saw one elder person in a gorgeous pink top. When I gave her a compliment on her outfit, she responded "I am old, how come it is gorgeous".  That kind of thinking is what makes people old. Thus, it is also up to older people to change their perception in order to live a more optimistic and active lifestyle.
"Older people should not consider their age to be an end to one's life. The Japanese enter this phase of life with great optimism as they believe this is when people get to live for themselves.  You can start painting, learning English, or dancing … this is your chance.  Of course it is also depending on good health and economic condition.
Note: Translated from original interview in Vietnamese