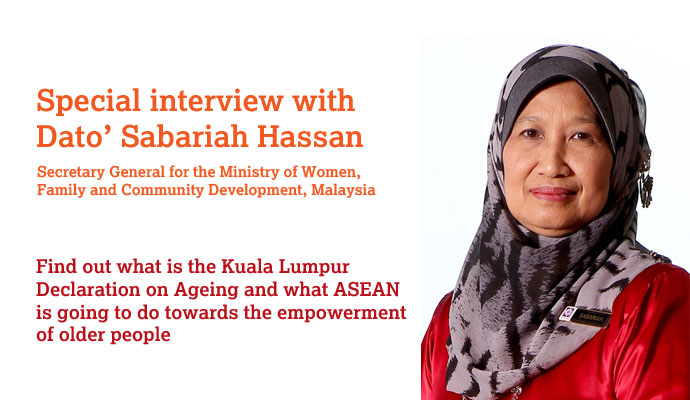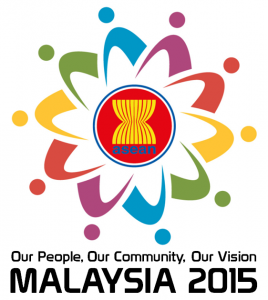 Malaysia is the Chair of ASEAN for 2015 and the theme of its ASEAN Chairmanship is "Our People, Our Community,Our Vision." The 27th ASEAN Summit and Related Summits were held in Kuala Lumpur, Malaysia from 21 to 22 November 2015. It was preceded by preparatory meetings from 18 to 20 November 2015. Many agreements and declarations were made at this summit, such as
Kuala Lumpur Declaration on The Establishment of The ASEAN Community
Kuala Lumpur Declaration on ASEAN 2025: Forging Ahead Together
Kuala Lumpur Declaration on Ageing: Empowering Older Persons in ASEAN
Putrajaya Joint Declaration on ASEAN Post-2015 Priorities Towards an ASEAN Citizen-Centric Civil Service
Regional Framework and Action Plan to Implement the ASEAN Declaration on Strengthening Social Protection
After the adoption of the Kuala Lumpur Declaration on Ageing, we had a great opportunity to interview Dato' Sabariah Hassan, Secretary General for the Ministry of Women, Family and Community Development, Malaysia. She is the current chairman of the Senior Officials Meeting on Social Welfare Development (SOMSWD).
Having worked with the Malaysian Government for almost 30 years, Dato' Sabariah has vast experience in various areas of policy and administration in the public service.  She is one of the 7 women Secretary General out of 24 Ministries in Malaysia.
Could you please tell us briefly about your role in the ASEAN secretariat and how does it relate to the development of Declaration on Ageing?  
Malaysia is a statutory member of three ASEAN Sectoral Bodies; these are Senior Officials Meeting on Social Welfare Development (SOMSWD), ASEAN Committee on Women (ACW) and ASEAN Commission on the Promotion and Protection of the Rights of Women and Children (ACWC).
SOMSWD is an ASEAN cooperation in the area of social welfare and development that addresses social risks faced by children, women, the elderly and persons with disabilities. ACW serves as the primary coordinating and monitoring body of the ASEAN on key regional priorities and cooperation on women's issues and concerns. ACWC is to ensure equitable development for women and children.
Malaysia is currently the chair of SOMSWD and hosted the 11th SOMSWD Meeting that was held in Kuala Lumpur, Malaysia from 8-10 September 2015. Malaysia will be the chair of SOMSWD for one year, from September 2015 until September 2016.
With this year theme of Empowering Older Persons in ASEAN, SOMSWD places its emphasis on the need to address issues relating to the greying of populations in the region. The issues do not only relate to social concerns, but could also have economic implications. We must also bear in mind that these societies will be rapidly ageing and with increased longevity it could slow global economic growth with its diminishing income gaps and shrinking workforce. In the year 2015, where Malaysia is the chair of ASEAN, suggestions have been made for the country to come out with a declaration on the elderly.
The Kuala Lumpur Declaration on Ageing: Empowering Older Person in ASEAN was endorsed during the 11th SOMSWD and adopted in the 27th ASEAN Summit which was held on 21 November 2015, in Kuala Lumpur.
In the Declaration on Ageing, there are 10 actions towards the empowerment of older persons to be fostered. What will be the next steps and what mechanisms will be in place to monitor progress?
The Kuala Lumpur Declaration on Ageing is a document that ASEAN Countries can refer to when developing an action plan or program involving the elderly. As a way forward, Malaysia will conduct a workshop at the national level to initiate the programmes and mechanism of implementation and monitoring the outcomes.
At the 27th ASEAN Summit, the heads of states signed ASEAN Community Vision 2025, which focuses on addressing the needs of older persons and other vulnerable groups in ASEAN countries. It also aims to build socially inclusive, sustainable and resilient societies over the coming 10 years. Population ageing is a critical element of ASEAN's efforts to create an inclusive ASEAN Community that engages and benefits all of its members. Three priority areas were identified for ASEAN countries to assess their level of preparedness for population ageing:
Social Protection for Older Adults
Promotion and Protection of the Rights of Older Persons
Strengthening Family and Communities.
How does the Declaration complement the ASEAN Strategic Framework on Social Welfare and Development 2016-2020?
The Declaration on ageing will support and complement the ASEAN Strategic Framework on Social Welfare and Development 2016-2020 with:
Establishment of an ASEAN wide research network on ageing (Malaysia).
ASEAN Regional Impact Research Study Assessment on Active Ageing (Philippines).
Strengthening database and data analysis on ageing issues by the ASEAN-wide research network on ageing (Malaysia).
Dialogue forum(s) of governmental, non-governmental and business organisations (GO-NGO-BO) on business and CSR for older persons to include topic on social enterprises working for ageing issues (Host SOMSWD).
Is there any particular aspect of ageing that become more crucial and can contribute to the societies' development?
Eldercare is projected to be the fastest-growing employment sector within the health care industry. Strengthening these caregiving occupations is not only vital to our social infrastructure and improving the quality of care, but also has the potential to drive long-term economic growth.
Our elders are a link between the past and the present. They play a decisive role in passing the cultural heritage from one generation to another. Indeed older persons are the custodians of our traditions, heritage and cultures. Their needs are united by one common goal; to build a caring community. They represent an accumulation of human wealth and have vast repositories of knowledge, values and wisdom which can contribute creative solutions.
The ageing of our societies has proven that the governments have managed to provide better living conditions to the people so that they can live longer and it is one of the greatest success stories of the 20th century for ASEAN. This is an accomplishment well worth celebrating.
In order to improve our methods and efforts for taking care of the elderly, ASEAN has increased the level of overall cooperation with China, Japan and South Korea which have more experience in dealings with the issues of the elderly population. Furthermore, these countries are important for ASEAN as they are close to us geographically and culturally. The 3 giants also have the financial and economic capacity to provide the necessary assistance and more importantly, they are interested in developing successful cooperation with ASEAN.
---
Read more on the Kuala Lumpur Declaration on Ageing from our newsletter, AgeNews no.17.