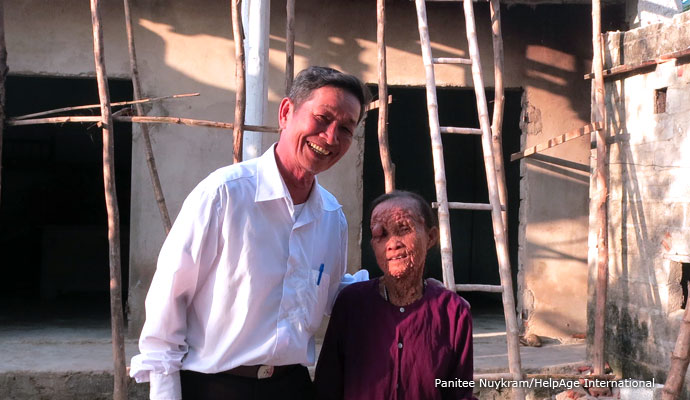 Nguyen Thi Thanh is 73 years old and suffers from Neurofibromatosis, a genetic condition which causes growth of tumours. She has lived alone in a remote area of Vietnam since her husband passed away 18 years ago. Thanh has three daughters, and like so many others living in rural areas, two of her children have had to move away to the city for work. One of her daughters lives next door, but she is raising her own daughter alone, also has health issues and doesn't have a stable income.
Before July 2007, Thanh lived in a house which was built by the contribution of her neighbourhood in 1996. The house was unstable and not able to protect her from extreme heat or monsoon rains. Also, her house is located in an area at high risk for typhoons, flood, drought and other natural disasters.
As part of their commitment to caring for those in need in their community, the Tan Thuong Intergenerational Self-Help Club (ISHC) assigned two volunteers to come and help her with her daily house work. Additionally, Mr Thuan, who is in charge of the Club's rights and entitlements activities, offered to provide her with support to strengthen her house.
Before typhoon season in 2014, Mr Thuan, together with the Club Management Board, advocated successfully to the Commune People's Committee to allocate 2 million VND (USD100) to fix Mrs. Thanh's house. 37 members of the Tan Thuong ISHC contributed one day of labour each to work on her house.
Their efforts were successful, but the house was still not strong enough for the coming typhoon season. Again, the ISHC advocated on her behalf. They sought assitance from the Loc Ha Women's Union to complete and submit the application form for Mrs. Thanh to the Department of Labour, Invalids and Social Affairs in Loc Ha district for financial support to rebuild the house. The application was approved with 15 million VND (USD700) granted.
In addition, the ISHC mobilised its members, other community's members and local authorities. They were able to collect another 2 million VND (USD100), 30 kg of cement and labour contributions from ISHC members.
"Mr Thuan comes to my house everyday to work with people to build a new house for me. He helps me to buy materials for building and keeps track of everything. A new house is more than I ever expected to have in my life. Thanks to the Club and Mr Thuan, I feel so thankful," said Thanh.