"If we use money to buy goods and give them away, all the money will be gone at once. I would like to do something that lasts longer to help everyone to go through this difficult situation."
Prapai Amornsak, leader of Nong-Hoi older people's group.
The lockdown in Thailand was lifted in mid-June and most shops and offices are back in business. Yet, the economy and the livelihood of people continue to suffer and are not yet returned to the stage it was prior to COVID-19. Many people have lost their jobs or have had reduced income and are struggling to earn a living and keep their stomach full.
When Nong-Hoi older people's group in Chiang Mai province was selected as a recipient for a small grant from the Foundation for Older Persons' Development (FOPDEV)* under its age-inclusive disaster risk reduction programme, Prapai Amornsak, the group leader shared with FOPDEV her idea to tackle the economic crisis caused by COVID-19 using her cooking skill.
"We received a small grant from FOPDEV. We used it as a revolving fund to buy ingredients for cooking and sell meals at a budget price. We do not aim for profit. With this model, we can help people to have good meals, while we get some return for investment to run the kitchen for as long as we can." said Prapai.
Nong-Hoi older people's group decided to set up "Krua Mae Ui" (Grandmas' Kitchen) in May 2020 after the three-month cash emergency relief by Thai government ended.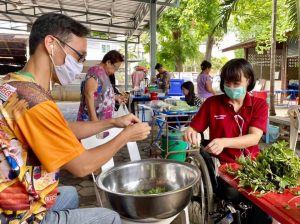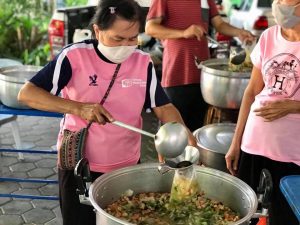 "Grandmas' Kitchen" has been running by members of Nong-Hoi older people's group since then. Homecare volunteers, members of the Disability Culture Chiangmai Association, and local food shop owners were also involved in this project by cooking clean and nutritious food to sell at the community hall every day. The popular menu includes Pad Thai (stir-fried rice noodle), fried rice, vegetable soup and fresh fruit juice. All dishes are sold at a single price – 10 baht ($0.32) which is 2-3 times lower than market price.
"Grandmas' Kitchen" also provided free meals to vulnerable groups in the community who are most affected from the pandemic. Even though the project budget was initially set for three months of operating costs (up to July), they have continued cooking every day through August and at least once a week in September. To date, 'Grandmas' Kitchen' has provided more than 1,200 free meals and countless number of ready-to-eat meals for sale.
*FOPDEV is one of our network members in Thailand. Find more information about them here.