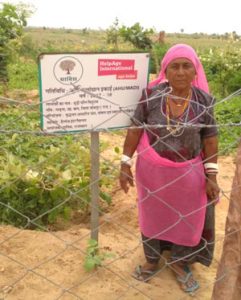 Guri Devi is an 83-year-old widow living in Gadna village, Baap block, Jodhpur district. She has five sons and four daughters. Her husband died 15 years ago, so she raised all nine children on her own. Her four daughters married and moved out but her sons are settled with their spouses in their separate houses. The assets and land were equally distributed amongst the sons and now she lives alone in her old house, which made her feel very sad and lonely. Although her sons lived close to her, she was still dependent on them for daily meals and care. However, life took a happy turn for Guri Devi in the form of much-needed support from a local NGO, Gramin Vikas Vigyan Samiti (GRAVIS), which has been working for the welfare of older people in Jodhpur district with the support of HelpAge India.
HelpAge along with the implementing agency GRAVIS helped her to set up a horticulture unit in her backyard in September 2017. This unit is now giving her the opportunity to earn her own living and to stay constructively engaged. It also supports her nutritional requirements. GRAVIS also helped her acquire a widow's pension of 500 Indian rupees (US$7) per month and provided her with 20 saplings. She can now sell and eat the farm produce. The unit is in her name, which gives her a sense of ownership. Guri Devi is all praise for the support given by GRAVIS and HelpAge International, which has transformed her life.
She said, "After I started my own horticulture unit, my sons who never had time to talk to me, now find time for me. This intervention has helped me regain respect and love from my family, which was completely missing".