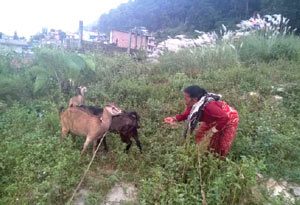 70-year-old Kaanchhi Sunar of Goldhunga, Kathmandu had nobody around to talk to, although she lived with her extended family. Her grandson was her only company, not only in the house, but also in her life. She inherited a small piece of land after her husband passed away, and she wanted to make good use of the land, but she had not been able to find any small income-generating activities to suit her. With no income of her own, she took a loan every year to make ends meet. Then the 2015 earthquake changed her life entirely, rendering her homeless.
Sunar signed up for an income-generating programme run by the Nepal Participatory Action Network (NEPAN), a national organisation in Nepal running different types of elderly-related advocacy and action programmes for the last 18 years. The Nepal Earthquake Recovery Project (NERP) was being run in partnership with HelpAge International-NEPAN in 2016–2017, covering Goldhunga, where Kanchhi lived, and offering training courses like vegetable farming, goat keeping, pickle and candle making and incense-stick making.
After a three-day training in goat keeping, she received 9,000 Nepalese rupees (US$90). With this money, Kanchhi, after consultation with family members, decided to buy a pregnant female goat. Her female goat gave birth to two baby goats. She dedicated herself to tending the baby goats. She also joined an older people's association (OPA) formed in her municipality. Now she deposits 100 rupees (US$1) monthly in the group saving funds (GSF). She has also taken out a loan at a minimum interest rate to give additional support to her business.
After one year, she sold two goats for 50,000 rupees, and said "My pocket is full of money and my heart is full of happiness. I bought some jewels and clothes for my grandson. My business supports my family, and I will continue it until my death."