National Council of Senior Citizens Organisations Malaysia
The National Council of Senior Citizens Organisations Malaysia (NACSCOM) is a not-for-profit federation of senior citizens organizations in Malaysia, representing the senior citizens community in Malaysia with 40 affiliates throughout Malaysia.
Since its inception in 1990, NACSCOM has been actively involved in promoting the welfare and wellbeing of senior citizens in Malaysia via advocacy and meetings with relevant ministries and stakeholders including the corporate sector and civil society in raising their awareness and commitment to the welfare of older people.
In addition, NACSCOM runs senior home and day centres where wide range of activities are offered, from Health and nutrition talks; education on finance and social services for older people; physical exercises and recreational activities.
One of the main objectives of NACSCOM is to promote lifelong learning and productive ageing. Lifelong learning programmes are thus available at Day Centres allowing older people to acquire new knowledge, skills and expertise.
NACSCOM believes that senior citizens play an important role in the nation building and they still contribute to the national development even after their retirement. They play an important role in the training of the younger generation and through their forms of services, still contribute to the socio-economic transformation of the nation.
Contact information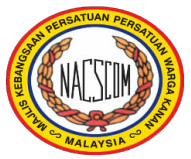 Datuk Dr Soon Ting Kueh, President
No 30 Jalan SS 22/2
Damansara Jaya
47400 Petaling Jaya Selangor
Malaysia
Tel: +60 03 7732 5096
Fax: +60 03 7722 3346
Email: soontk@ikm.org.my
Website: http://www.nacscom.org.my